Manufacturer
Opinion Ciatti
Starting at
€2,010
(incl VAT)
"A design object should always tell a story, make you smile, excite you... without ever forgetting to be functional.
Innovative but deeply rooted in the past, only this way it will last in time"
LAPO CIATTI
We love the idea of creating "Spices and sauces" that add a unique flair to spaces that are usually somehow nondescript, basic, or conventional, just as the right mix of spices and sauces can flavour a dish and regale our senses.
Yum Yum Pouf is available to buy in increments of 1
Alone or with others, outside or inside the house, a pouf or an armchair?
The Yum Yum seating collection has an answer for all this and even more.
Yum Yum is a pouf with a backrest, precisely a soft padded pouf with a strong wooden backrest. But it is also a comfortable armchair highly conducive to total relaxation, with a padded seat that looks very much like a pouf.
Whether as a single armchair, two-seater sofa or extra-large armchair with a 20 cm larger seat it ensures moments of pure relaxation or can become a comfortable space from which to check your email, go over a project, or make that special telephone call.
A versatile piece that adds to the décor without overpowering it, Yum Yum enhances the perception of spaces by making them special and memorable, but also performs its primary function in the best possible way: that of guaranteeing a comfortable moment of relaxation.
Link Produs / Product Link
https://www.opinionciatti.com/en/pages/182-yum-yum_armchair_pouf
Dimensiuni / Prețul afișat este pentru configurația din prima schiță de produs / Prețul  variază in funcție de categoria de textil sau piele                                  
Dimensions / The price shown is available for the configuration in the first product sheet / The price varies depending on the fabric or leather category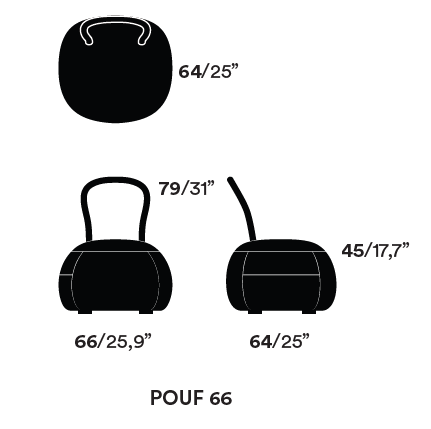 Link Dimensiuni / Dimensions Link
https://www.dropbox.com/s/buz9e8c3lcrrenc/YumYum_datasheet.pdf?dl=0