Starting at
€1,636
(incl VAT)
"I enjoy allowing a material to become a collaborator and help determine the outcome of a design"...
Paul Cocksedge
Gravity Chandelier is available to buy in increments of 1
The Gravity Chandelier by Paul Cocksedge re-imagines the chandeliers of the past. Inspired by changing rigidity to elasticity. The Gravity Chandelier is the definition of a modern chandelier. At first glance, it doesn't reveal its flexibility and cleverness; It takes a second look to unravel its mystery. With its flexible arms, you define the chandelier's diameter and choose where the light travels, but the suspended elements create natural curves shaped by gravity.
The Gravity Chandelier comes in two sizes, after the number of arms, Gravity Chandelier 5 and Gravity Chandelier 7.
Gravity causes the graceful arcs of the strands hanging in mid-air, ending in pressed glass filled with sparkling lights.
Thanks to the elastic black chords, the Gravity Chandelier's arms look like precise lines of ink.
MATERIAL
Facetted glass with powder coated steel light unit, ultra-thin suspension wire and braided flat cable
ENERGY LABEL  -  Energy Label A
INSTALLATION REQUIRED  - Yes
LIGHTSOURCE TYPE  -  LED
LIGHTSOURCE INCLUDED  - Yes
NUMBER OF LIGHTSOURCES  -  5/7
INPUT VOLTAGE  - 120-250
FREQUENCY  - 50/60
MAX POWER CONSUMPTION  - 18W
DIMMABLE  - Yes
LAMPHOLDER  - LED (Solid state)
LIFETIME  -  50000 hours
CABLE COLOUR -  Black
CANOPY  - Matching steel cylinder
COLOUR TEMPERATURE  - 2614 K
CRI  -  89
LIGHT DIRECTION  - All directions
EFFICIENCY   -  56.94 lm/W
Link Producător / Product link: https://www.moooi.com/en/product/gravity-chandelier
Dimensiuni / Dimensions: https://www.moooi.com/en/product/gravity-chandelier#dimensions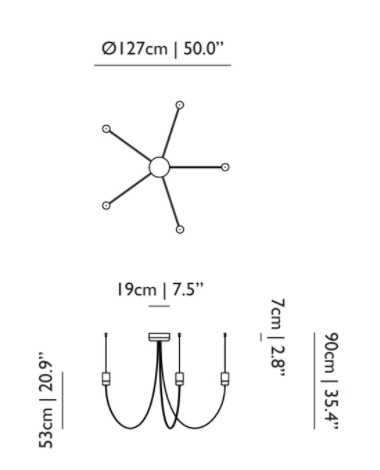 Dimensiuni / Prețul afișat este pentru configurația din prima schiță de produs / Prețul variază in funcție de categorie
Dimensions / The price shown is available for the first configuration in the product sheet / The price varies depending on the category