Designer
Vincent Van Duysen
Starting at
€1,705
(incl VAT)
"Protection is something very important that we all need and that is something that I want to translate into my architectural and design work"
VINCENT VAN DUYSEN
Jan Small Table is available to buy in increments of 1
The structural elements of Jan, made of metal, with pewter or copper finishes, bring lightness and sobriety to the volumes, while the eucalyptus or oak woods, the stones and the glass, used for the surfaces, elegantly re-design their proportions.
SMALL TABLES STRUCTURE (PAINTED)
Steel with non-slip plastic feet.
WOODEN TOP
Wooden particleboard faced with Eucalyptus (Eucalyptus globulus), Oak (Quercus) or Walnut (Juglans nigra) veneer painted in colours from the "Molteni Range".
MARBLE TOP
Marble in Range finishes with anti-stain, water-repellent treatments.
CRYSTAL TOP
Bronze mirror th. 4 mm fixed on wooden particleboard panel support with melamine facing.
Link Producător: 
https://www.molteni.it/en/product/jan
Dimensiuni / Dimensions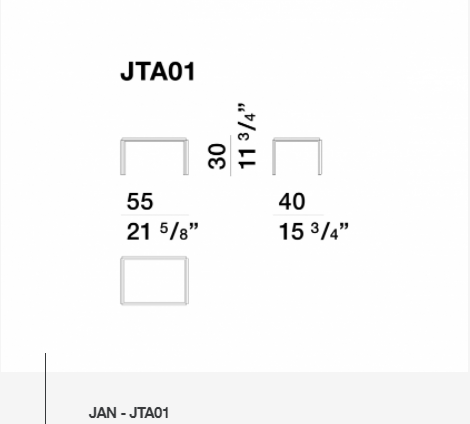 Schiță Tehnică
https://www.dropbox.com/s/7v9uvzu63hlemlz/jan-product-sheet.pdf?dl=0